History of ThoomCare
Before the Ripture Wars
The original ThoomCare began not long before the Ripture Wars.
It was rough rounding up enough Thooms at first. Here's a picture of the founding of the original clan: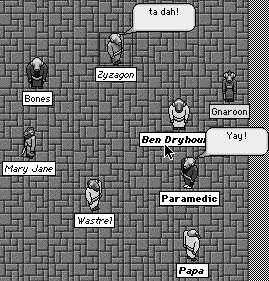 Bones, of Rising Claw, was an associate member of the original ThoomCare and served as a witness for the founding ceremony.

Often Thoom healers sacrifice their financial interests in order to heal others, so paying the entrance fee could be difficult for them. Fortunately I was a wealthy Thoom in those days, and I paid for the admission of many Thooms into the clan.

Despite a slow start, soon the population of ThoomCare exploded! Thoom healers flocked to ThoomCare. Papa and I tried to keep track, but we lost track when the number passed about 55. I estimate that by the time of the Ripture Wars, ThoomCare had over 60 members. I believe this made it the largest clan in Puddleby. It seemed that everywhere I went I was being introduced to a new member of ThoomCare.
---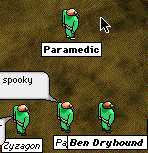 ThoomCare: Looking to the Future
The Ripture Wars were a dark time for ThoomCare. Many of our brave healers sacrificed themselves while healing others. The original founders were particularly hard hit. (Ben Dryhound, Mary Jane, and Wastrel are no longer with us. See Missing in Action.)

Paramedic says farewell to Zyzagon (a founding member of ThoomCare) at the conclusion of the Ripture Wars:

Zyzagon was missing for quite a while after the Wars.

Fortunately, a new team of dedicated Thoom healers emerged to re-establish the clan.

The five founding members of the new ThoomCare are: Paramedic, Heronymous, Luthic Darkus, Kalthax, and Rabbi Solomon. Nowadays, ThoomCare is once again rapidly expanding.

---

ThoomCare is today one of the oldest and largest clans in Puddleby, with more than twenty active members. ThoomCare healers serve as rescue healers and also participate in hunts and expeditions throughout the Lok'Groton islands.

ThoomCare has also been involved in publishing, keeping with Thoom traditions of the dissemination of knowledge. The ThoomCare Media Network produces Fishwrap Magazine and also provides regular news updates at the ThoomCare portal page.
Created before November 29, 1999; updated July 16, 2002