Dun'ilsar Results
Two Dun'ilsar competitions happened in the past few days.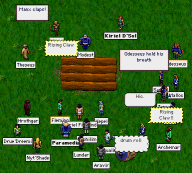 Click image to enlarge
In the ELF vs Rising Claw competition, ELF and RC competed to create names, stories, and poetry for the ELF Arboretum project. Rising Claw was the victor. More information and visionstones are available at Lundar's Library, at the entry for Day 64, Year 546 of the Ascendancy (May 19th, 2002).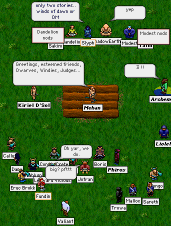 Click image to enlarge
The Dwarven Militia vs Winds of Dawn competition was a storytelling contest. In yet another close contest, the Dwarven Militia came away as the winner. A visionstone can be found here.
Odesseus on the ELF vs Rising Claw competition:
Greetings, Dunny Slaw-ers and honorable ELFs!
T'was a battle of the verbs abd nouns of the most rigorous sort! Well,
played, indeed, by ELFers in their prolific plant platitudes! Wonderful,
lovely poems and interesting information. Magnificent works, all.
However, Rising Claw prevailed and retained our spot atop the mountain
using several secret weapons (namely puns and word play, heh!). Truly,
who will be able to forget the tale by Kodo about the trained vultures
hanging on the wall, the wall Russes, all allergic to ku flowers ("ku,
ku, achoo!).
Many, many thanks to ELF for this fun and enlightening Dun'ilsar, and
thanks to our judges Modest, Manx and Kiriel for judging such a difficult
match!
-- Odesseus
Councilor, bard, doodler and power-napper
Clan of the Rising Claw

Math on the Dwarven Militia vs Winds of Dawn competition:
This contest was nothing but fun and entertaining for all parties
involved--both of the clans, the judges, and the spectators. Winds of Dawn
told a great tale of a new exile who must find her way around town, and the
Dwarven Militia told a tale of the first beer ever brewed. We were sure we
would lose, but in the end the judges, after what must have been a grueling
debate and a close vote, awarded the victory in this contest to the Dwarven
Militia!
Thank you to all who participated! Regards.
--Math
Posted by Para at May 20, 2002 10:10 PM