Darshak Attack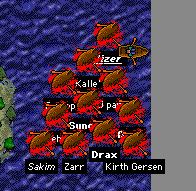 Puddleby recently was forced to defend itself against one of the largest attacks of Darshak ever. Accounts of this invasion can be found here:
Kirth Gersen's journal entry for 19 Spring 547
Lundar's Sketch of the Day for Day 105, Year 547
You might want to read more about the Darshak on Aravir's Darshak page.
Below are some pictures of the recent battle at sea with the Darshak, submitted to TMN by Sunoril. Click on the images to enlarge.
Posted by Para at August 26, 2002 04:01 PM