TMN Ad Art Contest (Updated)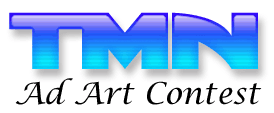 The one-year anniversary of the ThoomCare Media Network is coming up soon, and I have decided to celebrate by holding an ad art contest.
Exiles are encouraged to submit their original artwork in the form of advertisements for TMN.
The prizes have been significantly increased thanks to some generous benefactors (see the list of sponsors below):
First place: 7000 coins
Second place: 2000 coins
Third place: 1000 coins
Winners of the TMN Ad Art Contest will receive their prize from Paramedic the Thoom, wearing the ceremonial TMN "Golden Trout" Cloak donated by the Antiscian Tribe.

The following exiles and organizations have contributed to the prize fund:
Aravir
Antiscian Tribe
Hunk
McBain
Odesseus
Opxe
Rising Claw
Ziff Rengar
There's still time to help sponsor the contest; we could use some more donations to help cover the costs of the prizes.
The deadline for contest submissions is 43 Winter 550 (Thursday, May 1, 2003). Updated: new deadline is the end of the day on Sunday, May 4, 2003.
Read below for more updated information!
Who are the judges?
The judges are Paramedic and Odesseus.
What is the subject?
The subject is an advertisement for the ThoomCare Media Network.
What size should my submission be?
Please keep the ad to a size smaller than 250x250 pixels. There's some flexibility here. An ad the size of the traditional TMN logo (360x152) would be a good size to use, for example.
Where should I send my entry?
See "Contact Information" in the right-hand column of TMN.
May I submit more than one piece of art?
Exiles are limited to two (2) submissions each. There is a limit of one (1) prize per exile. The better of your two submissions (should you choose to submit two) will be considered for a prize award, in other words.
Are animated GIFs acceptable?
Certainly, yes.
What sort of style should I use for my ad?
You are open to select any type of style, IC or OOC. Feel free to be inventive with this. What would a TMN ad look like on a signpost in Puddleby? On a parchment delivered to the Darshak? How would a TMN ad look if done in the style of ancient Egyptian art? Italian Renaissance? Art Deco? Medieval illustrated manuscript? Anime? Atari 2600? CNN? Star Trek? Soviet propaganda? Any of these and countless others could provide interesting inspiration.
Posted by Para at April 27, 2003 05:40 PM