Ad Art: First and Second Prizes
Here are the winners of the First and Second Prizes in the TMN Ad Art Contest. Congratulations to both Sor and Xel!
Thoom Letters
Winner: 1st Prize (7000 coins)
by Sor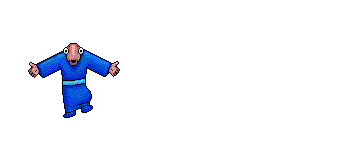 Sor's entry elegantly sums up TMN with charmingly drawn Thooms.
War on the Orga
Winner: 2nd Prize (2000 coins)
by Xel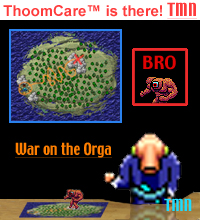 Seemingly torn from today's headlines, "War on the Orga" features a battlefield diorama (with orga figurine) and a "BRO" icon, both of which still make me chuckle. Good job!
Attention all winners: contact me in town or via e-mail about a time to meet with me to receive your prize.
Thanks to all of you who entered the contest, and thanks again to the generous sponsors who helped to make it possible:
Aravir
Antiscian Tribe
Hunk
McBain
Odesseus
Opxe
Rising Claw
Ziff Rengar
Special thanks to Odesseus for helping me with the judging.
Posted by Para at May 11, 2003 04:15 AM