The Golden Trout Makes an Appearance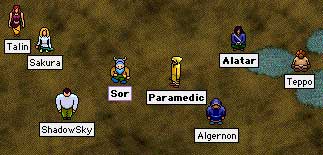 Sor received his 7000 coin prize for the Ad Art Contest from me yesterday. I was wearing the TMN "Golden Trout" Ceremonial Cloak while making the presentation.
The Ad Art Contest was in honor of the one-year (IC: four-year) anniversary of the ThoomCare Media Network. Thank you all for your support and for continuing to visit TMN in increasing numbers.
Posted by Para at May 12, 2003 10:51 PM