Greater Turkey Assaults Town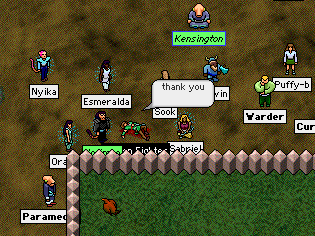 Puddleby is presently crippled by attacks from a vicious and powerful Greater Turkey. Victims are receiving help in the Temple.
Update: SnowLion struck the final blow and killed the Greater Turkey. Chef Haricot showed up and said the turkey will be prepared in two hours. He never showed up with the cooked bird though.
Posted by Para at November 27, 2003 05:33 PM