Zorton's Porting Rescue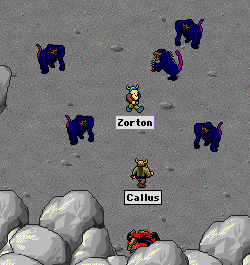 Callus sent TMN the following report:
"I thought that TMN readers would be interested in this rescue:
"The situation: a small group is exploring the foothills, starting from Camp Dred and traveling to the shimmering pool. Yor went ahead to scout the snell, exiting Sor's Door (into snell 11 on Entil'Zha's map), and got surrounded by 40+ Midnight Wendeckas. What followed was Zorton's own version of a 'Darkane' rescue!
"Side note: everyone made it safely to town!"
Download visionstone of Zorton's Porting Rescue
Posted by Para at December 30, 2003 11:30 PM