Wake Me Up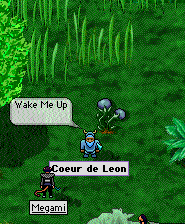 TMN received this report from Gungla Island:
"Coeur found this plant-imal on Gungla Island past the second and third secret crossings. It is called a Wake Me Up. The Wake Me Up will follow you around, and if it is in a bad mood it will try to "sting" you.
"He was also the one who discovered the Paradise Butterfly plant-imal that was found northwest of the south Gungla Island village and reported by Baffette (and Arod). I'm not sure if the Paradise Butterfly moves, but it does keep a watchful eye. When I first ran by it, I swear it spit something at me, but I can't be sure."
Posted by Para at May 30, 2004 12:02 PM