Groar Location Expedition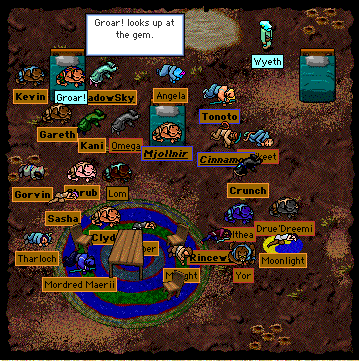 Tonoto sent TMN the following report:
"Here's a picture of the Groar Location Expedition, which was successful in finding Groar but not waking him up. We started our expedition around OOC 6pm yesterday (Wednesday, June 23).
"The expedition was lead by Althea and enhanced by the presence of Rincewind. All others participating are shown in the picture. It was a team that worked well together and fought some of the toughest battles that I have experienced on Kismia Island."
Yor has posted an update on the Groar/Rowl situation in the Rowl or FA News forum on Clan Lord Sentinel.
Posted by Para at June 24, 2004 11:43 PM