The Death of Rowl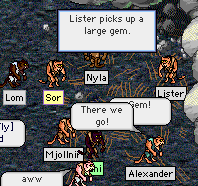 Callus sent the following report to TMN:
"After a nine-hour power session of hunting today, an exhausted group of exiles managed to outfight and outlast Rowl on his own turf.
"We chased him all across Kismia's Island to the glaciers, where he fortified himself within the 'skating rink' area. After a grueling battle at the bottlenecked entrance, Rowl--now weary from summoning other lyfes and quite frightened of our determination--fled to the glacier caverns where he was surrounded and defeated.
"Lister found the gemstone that Rowl had stolen from the underground statue. After some discussion, the group felt that we should try taking the gemstone to Groar at the boatmaking hut. We arrived and showed the gem to Groar, but Groar did not seem interested.
"At this point, Fat Alice began sunstoning Lister in an attempt to bargain for the gemstone, offering 80,000c and the wand of lyfe-curing (it was my understanding that she initially offered the wand to us as reward for defeating Rowl). Lister flatly refused Alice's offer, and discussion ensues as to what to do with the gemstone."
Fighting our way up the icy slope towards the skating rink area.
Battling for a foothold in entrance to the skating rink area.
Rowl makes his escape from the skating rink area! (Note that Snowlion took Rowl down to yellow *in one hit*--and Rowl simply took SnowLion down.)
Rowl flees into the caves, with the exiles in close pursuit.
The final stand of Rowl!
Lister claims the prize.
Meeting with Groar.
Posted by Para at June 26, 2004 09:37 PM