Newbielympics: More Sampling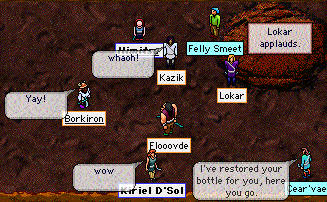 Today there were two Newbielympics events, Poesy's musical round competition, and Himitsu's Cear'vae sampling contest (last minute replacement for cloaked shapes). The results for the musical competition haven't yet been reported, but in the sampling contest Flooovde came in 1st, Borkiron and Lokar tied for 2nd, and Kazik came in 4th.
Tomorrow's events are the mystic push competition at 5pm PDT (GMT-7) and the start of the marathon item hunt at 6pm PDT (GMT-7). Full Newbielympics schedule available.
Posted by Kiriel at August 04, 2004 09:34 PM