Bard Concert Today

Coriakin reports via Koppi:
"Informal concert in the Bards' Field soon! All are welcome to come and listen. (OOC: Sunday, October 17th, 3:00 P.M. Pacific time)"
Update: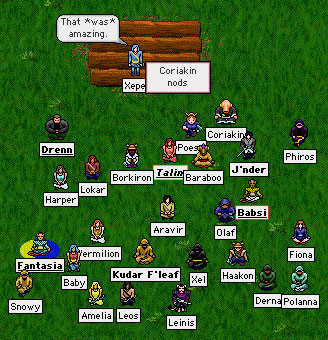 J'nder sent the following report to TMN:
"I was lucky enough to be in town when a bards' concert was held in the Bards' Field.
It was excellent!, The highlight for me was Fantasia's performance of her own composition "Riding the Drake--Viola's song" accompanied by Phiros and Coriakin.
The concert was superbly MC'ed by Xepel; big thanks to all the performers!
They even played the duck song!"
Posted by Para at October 17, 2004 04:09 AM