Über Greymyr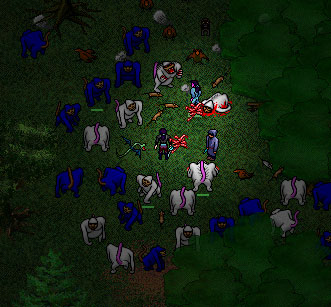 J'nder sent the following report to TMN:
"Here are some sketches I made during a recent invasion. Creatures from the passes came out and occupied East Forest, Tanglewood, East Field and even parts of town. Many, many greymyrs and wendies formed a barrier across East Field, denying passage to exiles. Time and time again, monsters were driven back only to re-spawn and force the exiles to regroup.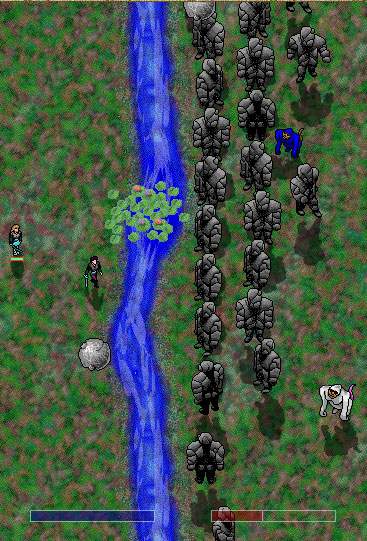 "Many rare creatures, such as Dusk, Day, and Dawn Wendies and Large Silverback Wendies were seen. A new type of greymyr, nicknamed the Über Greymyr, was seen too. Much tougher, stronger and harder to hit than normal greymyrs, they took a lot of rodding and the bravery of many fighters to destroy. They also threw five rocks at a time, seemingly targeting anyone that shouted.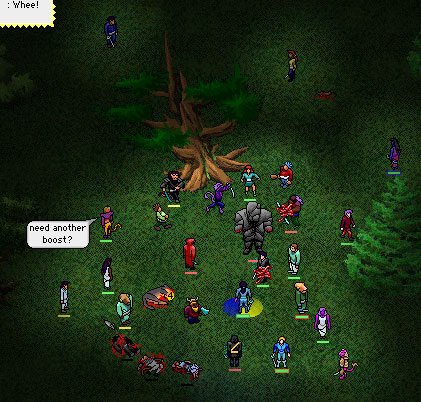 "Exiles still seem to be finding remnants of the invasion even now, four days later."
In related news, Harper sent the following report to TMN:
"Important Safety Tip: Don't yell around the super greymyrs!"
"A new and potent greymyr has emerged from the deep places in the Greymyr Mountains and invaded the forests east of our fair town. These super greymyr are crafty and listen for exiles shouting. They then target the shouter and send a barrage of four or more rocks in rapid-fire succession right at him or her. This sad truth was learned during yesterday's invasion when a well-meaning healer (er, me) was shouting to tell folks where the fallens were. The result was a ton of rocks on the hapless healer and her helpless fallens. We all ended up perilously near death—so severe that even Lorikeet in collaboration with Horus' other top students were unable to raise us. Maeght graciously gave his life for science to test this hypothesis several ways, so we're sure that yelling is an extremely bad idea around the super greymyrs. Another ominous development: the greymyr appear to have entered into an unholy alliance with the most powerful elements of the Wendecka tribes, including Elder Midnight Wendeckas and Silverbacks. Finally, there was a barrage of chain breaks during this invasion—more than is usual. Coincidence? or a portent of things to come?"
Posted by Para at February 14, 2005 11:08 PM