Destine Expands
Creed also reported some Clan Destine news to TMN: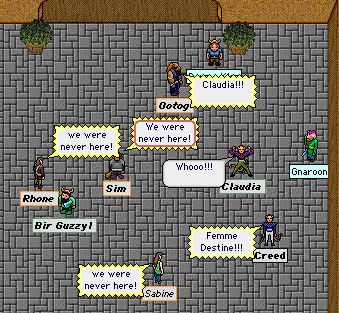 "Clan Destine is proud to announce the induction of our newest member: Claudia, a lovely and talented Fen fighter, as you all know.
"Claudia was inducted on Gradi, day 61 of Spring, 557, followed by a raucous celebration in the clan's new apartment in Puddleby Hollows. The party was well-oiled by a cask of honey ale brewed by our own Sim.
"Although some clan members were heard to mention that we might have to change our name to Fen Destine, others were of the opinion that a clan can never have too many Fen. We are all thrilled to have Claudia with us."
Posted by Para at February 21, 2005 05:29 PM