Yaba?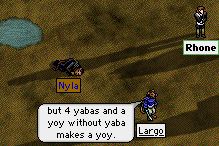 Rhone sent the following cryptic message to TMN:
Yaba master MASTER Rhone reporting,
The yaba proved yoy today with exile Largo being promoted to Yaba Master. My short teaching of Yaba and Yoy are quickly becoming yoyed as everyone realizes the yaba they can obtain. The Yaba Yoy Yoy Registry, headed my Largo and Myself, wishes many yoys, double yabas, triple yabas, and even a special daba to the exiles of Puddleyaba. May we all one day Yaba together. A yoy goes out to Cradles, Simster, Bakin, Sabilles, Birametrics, Cyommy, Siahons, Ootish, and Clauders, the first clan to incorporate Yaba, "Yoy Yoy Destine."
Yoy Yaba Yoy,
Rhone
Posted by Para at September 05, 2005 07:26 AM