Santa Chicken Coming to Town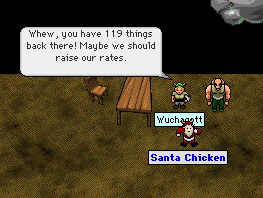 Santa Chicken sent the following announcement to TMN:
My Bawkmas preparations are complete! My bag is full of Bawkmas joy, and so is my tummy! (beer)
For those exiles who aren't too busy studying this Bawkmas, come out and visit Santa!
OOC December 25th I'll be out of the library off and on. Santa'll give stuff out all day long!
One small note . . . hee hee . . . someone gave me a present to give to someone . . . and i marked it poorly . . . and don't know who to give it to! If you could PM Super Chicken on the Sentinel, or contact me some other way that would be great. ( I know what the item is, I just don't know who to give it to!) Sorry, Santa's getting senile.
Happy Holidays Everyone!
Santa Chicken

Posted by Para at December 22, 2005 11:23 AM