Adventure Tour of Death

Saffire sent the following report to TMN:
The second Adventure Tour of Death to the Copper Mine and Giant Rose went very well. Coming on the Tour were Ratbane and Eil'daen, Pud, and Fiona. Leggo and Suu'ub III came for part of it but couldn't stay all the way.
We started off with visiting the Copper Mine and looking through the cave it was in, then headed to the Giant Rose in the NW Forest, also managing to get there without too much trouble. Here is the group inside the Rose (Leggo who was with us in the Copper Mine had to leave before we set off for the Rose):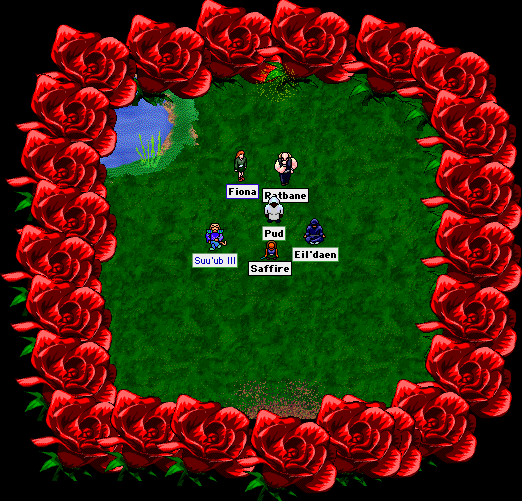 Since we had managed to visit the two announced places quickly, Ratbane suggested visiting Biffledink (Suu'ub III had to leave at this time). Most of us had never been to Biffledink's place before. However, we ran into a bit of trouble, the group getting separated and pestered a lot by many Herpetads and Herpetids. Fortunately, we met Dorian, who with his pathfinding knowledge, got the group together again, and Ratbane led us to Biffledink's place. Unfortunately, with the delays, we seem to have missed him, but it was still a new place for many of us.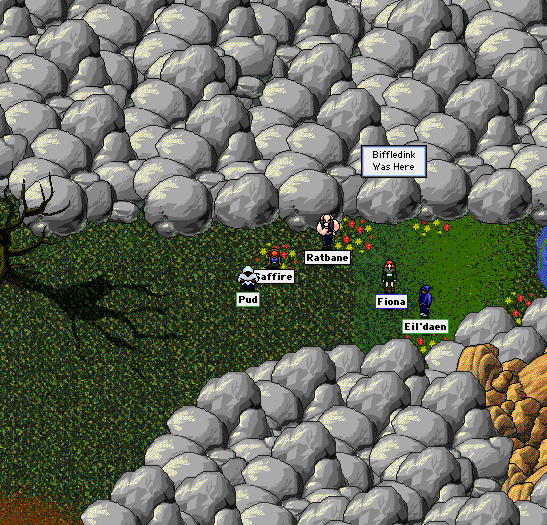 On the way back to town, we ran into trouble again, but were rescued by a large group, including Leggo, and also Patch Logan, who had just passed his third-circle Fighter test only some minutes earlier. Congratulations to Patch.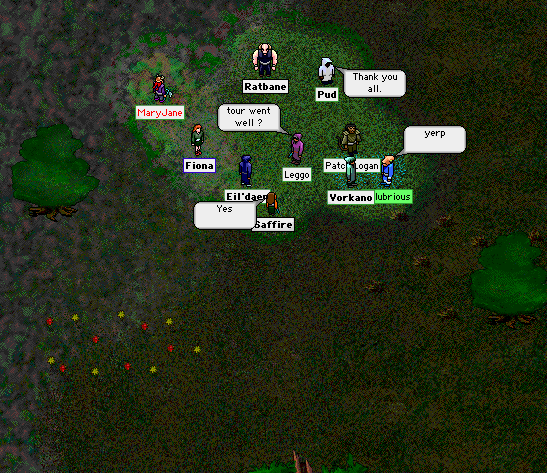 I started Adventure Tours of Death as an experiment, because I didn't like seeing newer exiles going to or being taken to the same few hunting places over and over again, and I wanted to go to less commonly visited places. They seem to be successful so far, those who come say they enjoy them, and I myself am getting to visit places I didn't even know existed. If more people come, it will be possible to go to farther away and more dangerous places, but there's no shortage of places even with a small group or all new exiles. I'll have more tours in the future, so watch for announcements.
-Saffire
Posted by Para at December 24, 2005 12:50 AM