Zu vs. Gas: The Eternal Struggle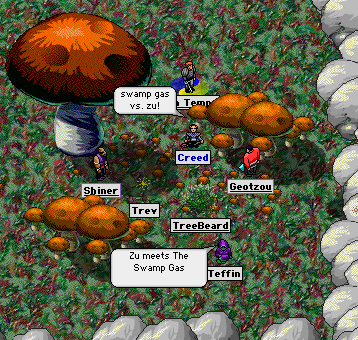 Creed sent the following report to TMN:
Hail, Para!
I thought I'd pass along an amusing sketch of a confrontation that I, for one, never thought I'd see . . .
Zu versus Swamp Gas!
Thanks to Rangers Trev and Treebeard, these two UN-natural enemies had a bit of a throwdown while a group of us waited to enter the Valley.
The bout ended in a draw. Perhaps one day we'll have to organize a rematch!
Cheers,
-Creed
Posted by Para at April 24, 2006 09:37 PM