Peaceton: A New Hunting Ground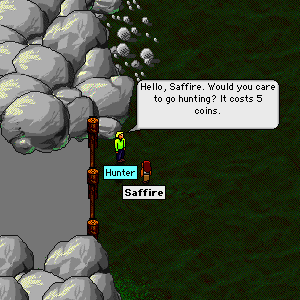 Saffire sent the following report to TMN:
Hi Paramedic,
The new attraction in Peaceton is—big surprise—a hunting ground. (With hindsight, this should have been an obvious guess, since hunting is about the only activity most people find attractive.)
The entrance to the Peaceton hunting ground looks similar to the Game Preserve in the South Farm, but entry is by admission at the gate. Inside can be found big cats and snakes. I didn't stay more than a few seconds, so I don't know if other types of creatures are there or how large the area is.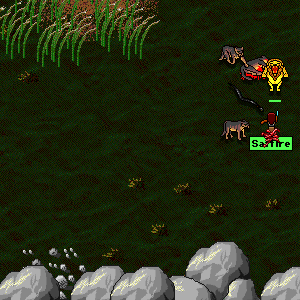 Fortunately, the rest of Peaceton is as peaceful as ever, with the mindlessly aggressive creatures shut away in their own separate area. I hope they don't ever escape and "invade" Peaceton town, though I wouldn't be surprised one bit if it happened.
Still, it's sad to see a small community with a different culture having to pander to the tastes of their larger neighbor because of the demands from the visitors. I guess that's what Peaceton is, a tacky tourist resort, which people visit occasionally but don't want to stay in. They've introduced a "new attraction" which is alien to their own culture specifically to cater to the favourite activity of Puddleby residents, but haven't opened up any job openings in their local businesses (bowling alley, jewelry shop, horse stables) for any who might like the place and want to stay.
Oh, and yes, I've decided to move to Peaceton and live there. Talk about having the worst timing ever.
-Saffire
Posted by Para at June 16, 2006 08:19 AM