Wangah Rah's Report on Recent Ether Flow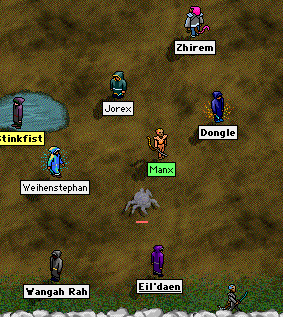 Wangah Rah sent the following report to TMN:
H'loi-
Though feeling little goodwill towards the general populace, it is of interest to report another incursion of the Ethereal Plane on the northeastern portion of the south forest. Exiles battled long in the southern east farm, continually driving back ethereal beasts to allow mystics to close the portals allowing these creatures to coalesce on our plane.
A few puddledays afterwards, a flow of ether wandered into town from the scout snell. It was a smaller incursion and there were not a spectacular amount of ethereal beasts; however, it seems the merging of the plans is somehow imprinting the Ethereal Plane with our own beasts. The latest creature to appear is shown in this sketch and has been named an Ethereal Chamelopod, due to the nature of their body structure and coloring. Similar to the forest variant, these creatures are relatively easy to hit, but posses a truly fearsome bite.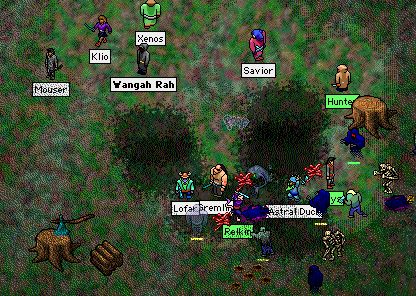 It would not surprise me if more and more creatures from our plane began to surface in ethereal variants as the planes continue to move closer to unity. Perhaps an apology from exiles will lead me to make my research on these matters more public.
Be well, but not too well,
-Wangah Rah
Posted by Para at March 17, 2007 10:26 PM