Team Thoom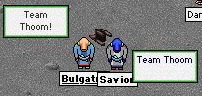 Savior sent the following report to TMN:
Greetings Thoom Paramedic,
As you might know, PAG and EAT recently joined ranks to assault the Orga Stronghold. We Thoom are an important part of this effort.
Team Thoom, the rod support for Mephisto (EAT founder) and the critical Rod B are made up Bulgatra, myself (Savior), Lox, and Nemesis. Guided by Meph's cry "Team Thoom!" we blast MephistoNoPants with our cads, while he runs us through firebombs and crippling chain lightning.
Thoom participation extends far beyond Team Thoom. The cads and horus of Miss Sai and Jeepers, along with the battle-saavy and wise cadding of Kensington, help push the group through many snells of the Stronghold.
Above is a picture of two members of Team Thoom, posing in Katpus' hideout in the Stronghold.
Folks can learn more about the assault on the Stronghold and (and see pictures of Team Thoom in action!) in the Puddleopedia.
http://puddleopedia.org/Entry/OrgaStronghold
Thoom!
-Savior
Rat Bastards
Team Thoom
Posted by Para at March 23, 2007 09:21 PM