Who Needs Fighters?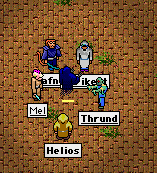 Helios sent the following report to TMN:
During a very successfuly incursion into the Undine hut a Wraith happened upon our group. Without any fighters present, felling this monster became quite a feat! After swinging our blades aimlessly for some time, we finally managed to land a few strikes and finish the job.
Here's a quick sketch to show what happens when you get on the wrong side of four healers and a mystic.
-Helios
Posted by Para at May 27, 2007 01:32 PM