Purple Haze and the Ancient Andvari

Hoggle sent the following report to TMN:
So, here we were getting ready to start another Purple Haze hunt. As we gathered on CI, we discussed where we should head to. Metz was eventually chosen. It was then we noticed Andy Var walking towards us.
He told us about an "Ancient Andvari" that he had encountered recently on Metz. Andy then asked us if we would dispose of it and he would show his gratitude. If we brought him the corpse, he would show even more gratitude. We accepted the deal and promptly went in search of the beast. He had last seen it towards the along the river by the caverns.
We saw no sign of andvari till we hit the snell near Gloaming Caves. The water seemed overrun with them.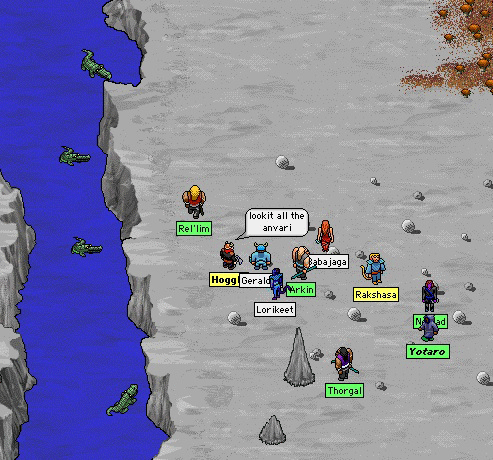 Purple Haze then ran into a huge cluster of andvari that were quickly dispatched. Just beyond those, we found the Ancient Andvari. We managed to get it stuck in some rocks while we killed all of the other creatures. Possibly because it was distressed, or knew what we were up to, it let out a huge bellow that called forth many more andvari to its aid.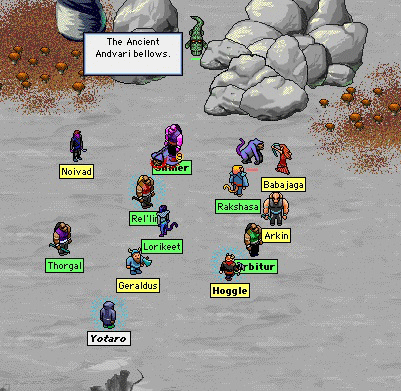 We eventually cleared all of its kin and took it out quickly before it could alert more. Noivad grabbed its corpse with his chain, and then we proceeded to work our way back through the island. This time we had the added challenge that above anything, Noivad must not fall (or we would lose the corpse.)
Would it surprise you to know that during this time we were hit with several ruds and black mambas and what have you? I didn't think it would.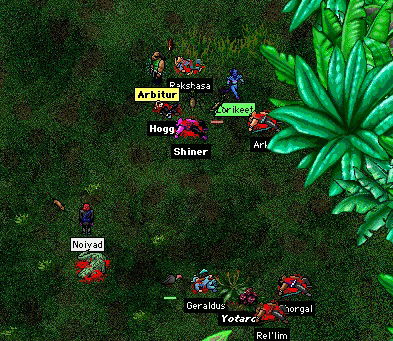 So, after a bit of a setback, we managed to recover and quickly left the island.
Andy Var seemed to be napping when we strolled up to him. He also seemed somewhat surprised that we were successful in his quest. Noivad then sought to squeeze a little more gratitude from him due to the increased difficulty of the beast. Unfortunately, Andy wasn't having any of that, however, and thus we received our originally agreed upon gratitude units. (3000 split 12 ways.)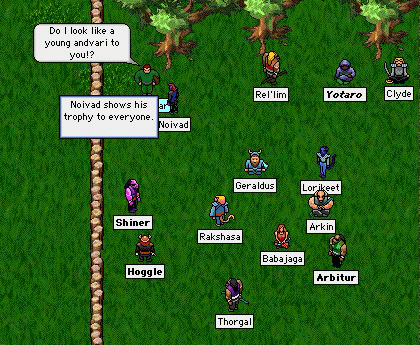 And with that, we ended the hunt. I wonder if there are any Ancient Boggles also around there . . .
-Hoggle
Posted by Para at September 09, 2007 07:38 PM