Brandon's Fish Parade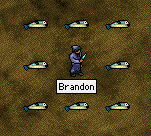 Savior sent the following report to TMN:
Thoom, Paramedic.
Some exciting Thoom news. There is a new fish vendor in town named Brandon. He performs elaborate fish rituals (called "the Fish Parade") and then will sell you the fish for a very reasonable price.
I recommend that any Thoom in the lands seek out Brandon and ask to see the Fish Parade. His acrobatics will astound you.
Thoomily,
-Savior

Posted by Para at October 20, 2007 04:14 PM