Book 3 Trip; Chance a Ranger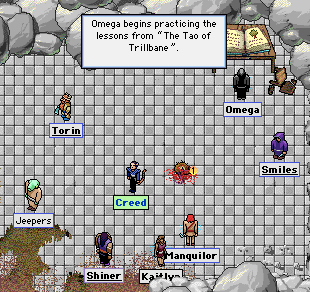 Creed sent the following report to TMN:
Hail Para!
I have a couple of news items to report.
One is that another group of exiles recently made a trip to "book 3," or "The Tao of Trillbane," to continue their studies of pathfinding. In the attached sketch, you can see Omega beginning his latest studies as I and several other exiles wait our turns. Omega instigated this trip, and I was very grateful to have the opportunity to further my PF studies.
Second, I am very happy to report that my dear friend Chance finally has become a Ranger! Her studies have been long and challenging, and she was very happy to be accepted by Garre Verminebane. Many exiles have helped Chance in her quest, including Yosaku, Yotaro, Klio, Shiner, Super Chicken, J'nder and Geotzou. She is especially grateful to Geotzou for taking so much time to help her finish the final two challenges (Night Wendies and PMRs).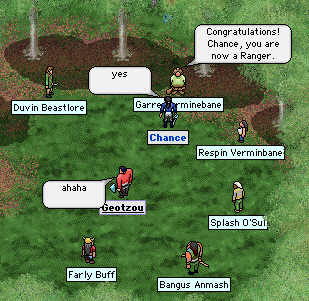 Congratulations, Chance!
-Creed
Posted by Para at October 21, 2007 04:53 AM