"This Thoom For Hire" Available on Visionstone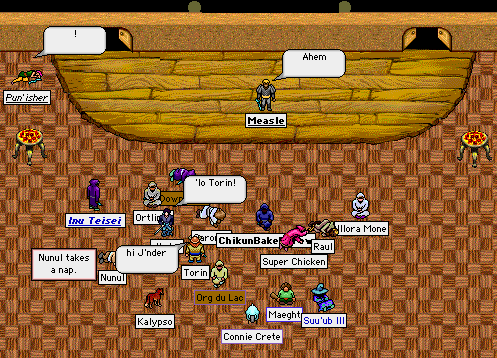 Inu Teisei sent the following report to TMN:
Howdy Para!
First off, the Puddleby Players would like to thank all the exiles who helped on the most recent production of "This Thoom For Hire". We were honored by the loaning of some rather valuable items for use in our production. Thank you to: Super Chicken, Jady, and Bleign. We also have to thank Starsword Eojek for his stunning contribution; the crowd really liked that (see below).
We also would love to thank all the exiles who came out to see the play. Your support keeps us going! We love putting on these plays for you.
So without much further ado, here is the link to the Visionstone on the LA site.
There are two files in the zip, one for the preshow, and one for the actual performance.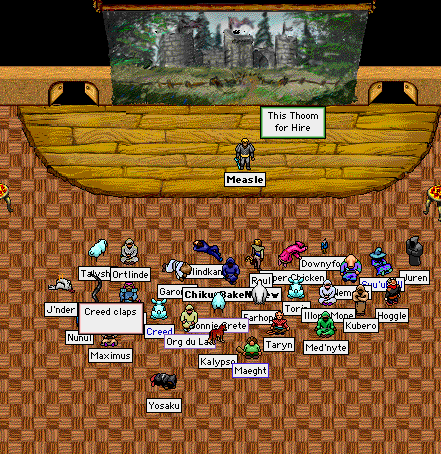 Also, Puddleby Players has regular rehearsals (more or less) on OOC: Thursdays 7pm Pacific time, 10pm Eastern time. We welcome new members, actors, writers, prop masters, set designers, bards, phantasmers.
One last note, we would like to thank Measle who will be going on an extended study break and will return in time for Ts'rrin. He wrote an awesome script for this play.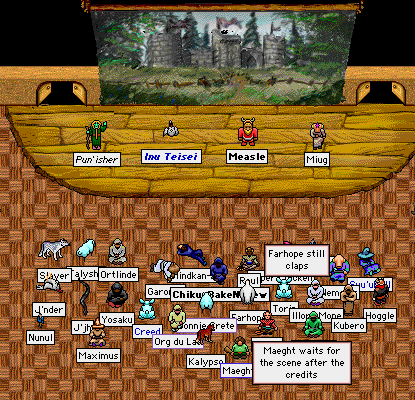 I just finished posting the interview I conducted with Measle right before he went on extended studies about the reviews of the latest Puddleby Players production of "This Thoom For Hire."
-Inu Teisei
Posted by Para at June 05, 2008 09:04 AM