Local Thoom Advances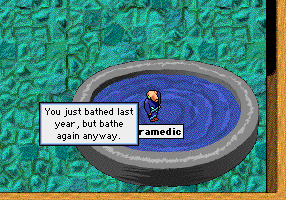 I passed the sixth circle healers' test today and celebrated with a bath in the sixth-circle healers' room.
Glory yells, "Congratulations, Paramedic, you have passed!"
Glory pats Paramedic on the back.
Glory says, "Now run along. I have work to do."
Glory thinks, "Congratulations go out to Paramedic, who has just passed the sixth circle healer test."
Posted by Para at June 22, 2008 11:17 PM