Grefo Toppa Sells Again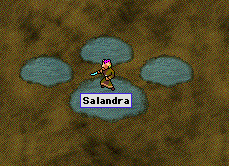 Salandra sent the following report to TMN:
Hello Thoomcare!
I am writing in to report that that Grefo Toppa has started selling shirts once again. But he no longer appears to be making Forest Green shirts. He is now selling Muddy Forest shirts. I've included a sketch of these new shirts with this alert. As you can see, they are definitely not like any other standard shirt by means of color! I haven't had a chance to see what dyes would look like on it but if you catch me in the lands I'll be more than happy to report what I know about different colors.
-Salandra
Posted by Para at June 24, 2008 07:36 AM