Conquering Book 2

Kerrah sent the following report to TMN:
Hello Para,
A few evenings ago, I was on a lazy Kizmia hunt, when Shobaffum asked me if I knew of any Book 1 hunts coming up. One thing led to another and . . . we found ourselves on a hunt not only to Book 1 (where Shobaffum began training), but to Book 2 as well, where several exiles needed to train.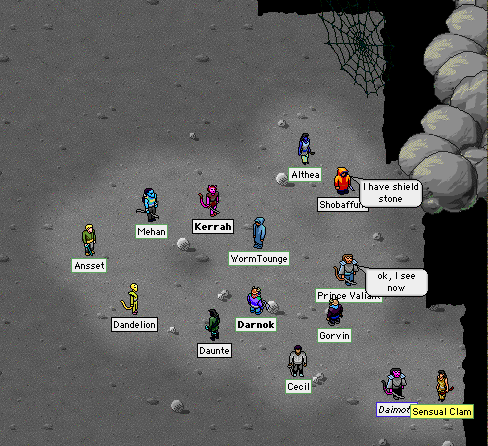 Having never made it all the way to Book 2, I was both excited and nervous to be embarking on such a journey. But after a relatively short travel time of 8 Puddle-hours, we successfully conquered all the Pitch Cave snells leading to Book 2.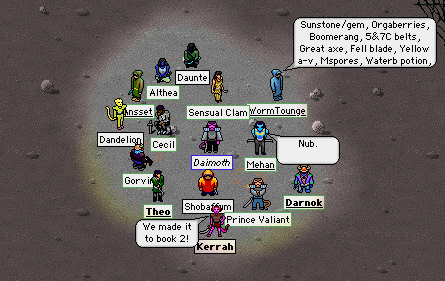 As you can see from the images, our group was comprised of a small yet talented group of healers, fighters, and everyone's favorite human Akea-boosting mystic, Ansset.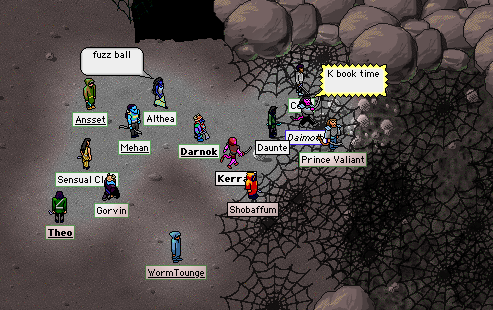 Upon reaching Book 2, Prince Valiant and WormTounge began studying the book. They made the sticky journey through the webs to Book 2 themselves; I didn't want to get more webs in my paws, so I have no images.
This journey was a smashing success due to the efforts of all involved . . . here is the roster of attendees:
Althea: Fashionable Sylvan and foil to Daimoth.
Ansset: Expert Mystic, porter, snell scanner, and Akea-booster.
Cecil: Resident stubborn vanilla fighter, jokester, and deep thinker.
Daimoth: Humble leader. Okay, not humble, but he earned it. Expert leadership was integral to our success.
Dandelion: Horus expert, technicolor partner in fen crime with Kerrah, and all around ray of sunshine.
Darnok: Higgy expert, and excellent healer, when the poor thing wasn't busy crashing at inopportune times.
Daunte: Token Ranger so Shobaffum wasn't lonely, and excellent noid-killer-helper.
Gorvin: Second Lieutenant to Daimoth, pitch hitter (get it?!)
Kerrah: Coordinator, and other stuff.
Mehan: Backup Horus, sarcastic Zo, and catcher of the webs.
Prince Valiant: Dashing Champion, current student of Book 2, and all around upstanding fellow.
Sensual Clam: Darling bloodblader, and source of comic relief.
Shobaffum: Current student of Book 1, token Ranger so Daunte wasn't lonely, great killer, and excellent armrest.
Theo: Fellow horn-tooter along with Daimoth, although he's way too talkative.
And last but not least...
WormTounge: Healer, current student of Book 2, and enterprising salesman.
A huge thank you to everyone who made this possible!
-Kerrah
Posted by Para at April 10, 2009 08:49 AM