Pitch Pain in the Library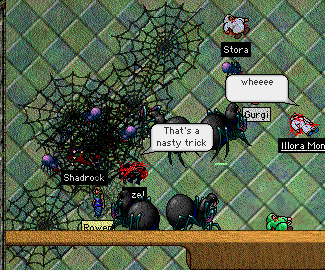 Illora Mone sent the following report to TMN:
Gustave asked me to pass along a sketch, which I am doing despite it being embarrassing.
This is in the free library, where we'd been healing up. I'm pretending I ran from the Pitch in the highest library into these instead of just running out to run face first into a Pitch while on red.
-Illora Mone
Posted by Para at December 09, 2009 08:04 AM