Law'n Speechless as Fire Drake Attacks Exiles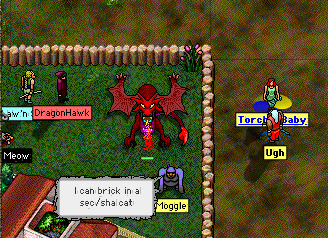 Ugh sent the following report to TMN:
There were only a few exiles out of the library this morning. I heard the call from Torcher Baby that there was something hideous in the center of town. I abandoned my usual search for orga near town and hurried back to find people running all over the place trying to find out what was causing that loud piercing sound. It send shivers up my spine as I joined in and found it had been trapped behind the fence where exiles congregate.
Law'n was there to watch and stood speechless as the monster was literally incinerating those who dared to attack it right at her feet on her lawn!
It looked like the drakes I remembered, but it was much brighter and appeared to be something that would come out of a volcano. Its breath was searing, and was difficult to survive for more than a couple of seconds before falling. People were finally starting to come out of the library, and we made sure all had a chance to try to kill it. It finally fell and the body was stuffed, mounted, and presented to Torcher, who bravely healed the weak and fallen.
-Ugh

Posted by Para at May 08, 2010 08:13 AM