Relkin and Creed Engagement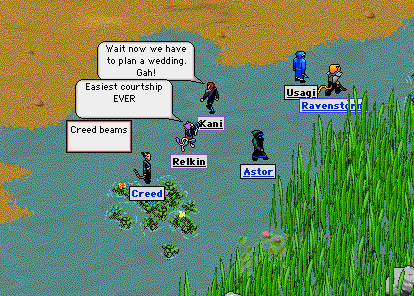 Creed sent the following announcement to TMN:
Relkin and Creed are engaged!
Relkin made a rather spontaneous declaration of luv on an estuary hunt with just me and Kani along. I was so surprised that I only got a single, blurry sketch of the big moment, but Kani has a couple of better pictures. Hopefully he'll remember to send them!
No word on when we'll actually get married. Neither of us is in a huge hurry, and we want the wedding to be THE event of the season. Right now we're actually trying to figure out whether my marrying Relkin will also make me officially married to his various husbands. If there are any legal scholars in Puddleby who want to weigh in on that, we'd love to know.
Cheers,
-Creed

Posted by Para at June 03, 2011 07:21 AM