Zelkhorn's Ominous Theory Concerning Pets

Hrothgrim sent the following report to TMN:
Team Misadventure was gearing up for a Foothills run, recovering from portal nausea when Zelkhorn put forth a terrible thought that perhaps begs investigation . . .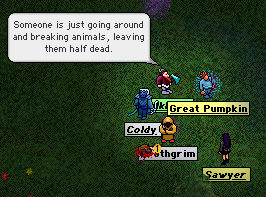 If there is any truth to this, it could prove devastating to young healers eagerly searching for a pet. To know that your beloved Ryu or Wendy is actually a victim of random violence . . . or is it?
Pets seem to be discovered in relatively similar spots, again and again. This seems not only intentional… but specifically that we are being told something. Is it a warning? Is it meant as an offering of appeasement?
When asked how this differs from Rangers hunting morphs, or exiles coining the wilds, I say it differs greatly! It starts with these creatures being hostile, albeit with our intrusion into their hunting grounds and homes. While exploring for usable wood and stone to better our town, we are beset by the wilds. Another distinction is that either these animals are killed and harvested, or simply wounded and escape to heal over time. The issue with these pets is that they are simply left to die . . .
This is one Dwarf who will be keeping a wary eye cast about in hopes of uncovering the truth . . . I urge you to do the same.
-Hrothy, Ranger Hopeful, Bane of the Orga.
Posted by Para at March 09, 2013 08:41 AM