Missing Connie on Top of a Bookcase Somewhere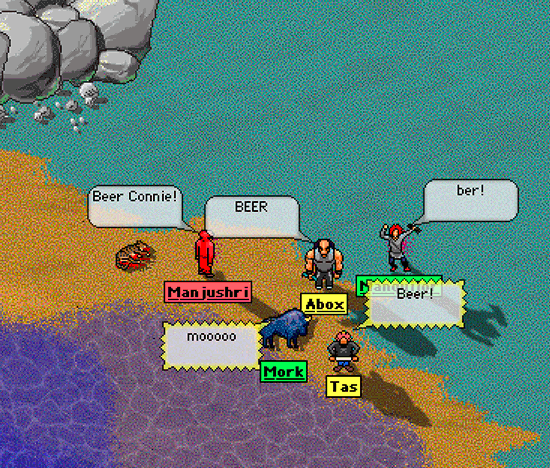 Tas Furrfoot sent the following report to TMN:
Hi Para,
We've been missing Connie cause she's stuck on top of a bookcase in the library for the last couple of hunts for nearly a week now and her interwebs are all wonky; but, FB and FB/DM hunts continue and been either kidnapped by or kidnapped folks anyhows and we still go out and have some fun.
Last night we took a shot from southern? estuary (entering from savanah/dunes) after Manj and Manqy and I kidnapped Abox and eventually Mork for some fun and falling. Shaky bailed us out a few times, but in all we had some fun and missed Connie so we took a picture to share with her and thought it'd be cool to send ya a report that we're thinking of her and everyone else around that area.
We know Connie's bookshelf is drip dry, but the library around her gots some water she's waiting for it to recede so she can wade out to the nearby store and get more beer 'n and we hopes anyone else flooded or damaged in the library is doing OK. Missing Fiona, hope she's OK - I think we last saw her on Tuesday. Dunno who else, hope they're ok... keeping them in our thoughts.
Our best from Falinea's Blade and Dwarven Militia to all those affected by that nasty library storm.
P.S. Yup, Tas sees a PF, he has to take it. So we pf'd our way through! Huzzah! Unfortunately, we didn't find Mork any dispatches, we kidnapped him late and Tas was having so much fun he almost forgot to take a beer break. *gasp*
P.P.S. Connie from the library is asking after Shiner and Kaitlyn if they're OK too.
Beer 'n Cookies,
-Tas.

Posted by Para at September 03, 2017 10:33 PM