Local Mystic Spearheads Annulus Exploration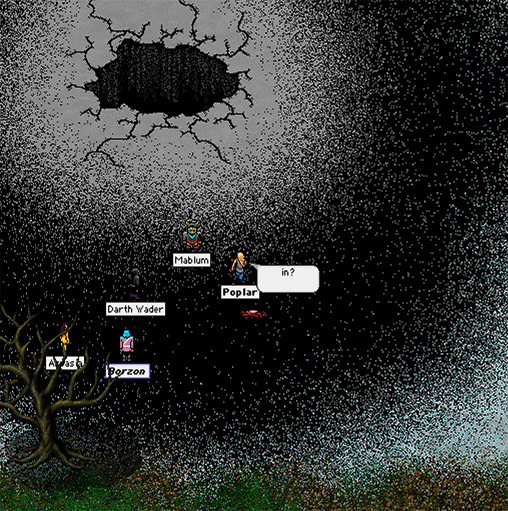 Poplar sent the following report to TMN:
An intrepid investigative force set out today to explore the workings of the Annulus. A formidable group of fighters, healers, and mystics made their way to the large gaping pit on Tenebrion's island. After some discussion, they jumped down in tactical order. It was immediately apparent that this part of the EP is unhealthy for mystics. It was rather perilous for fighters and healers as well. Most were fallen within minutes. This was repeated several times. Luckily, after each foray, at least one fighter survived long enough to chain the others back to town. The chore of chaining often fell to newly-eighth circle fighter Lexa and champion extraordinaire Haffron.
Healing was provided by Darth Wader, Penthka, and Kathius. After six successive rounds of dying, chaining to TC to be healed, and re-entering TI, they were able to clear enough for science to take place.
A number of interesting phenomena were noted during the course of the investigation. The group concentrated their efforts on the west side of the annulus. Although surrounded by an invisible barrier of some sort, there seems to be some sort of path or other mechanism by which one could theoretically enter. Several exiles reported being randomly ported out of the snell and onto PI or back to the edge of the pit on TI. There was an earthquake preceding one of these random ports. Salandra, the prominent mystic, was twiddling with the friendly clouds surrounding the annulus when a large spawn of decidedly unfriendly clouds of ether appeared out of nowhere and wreaked havoc. Aspasia, Borzon, and Poplar all reported negative side effects after touching the clouds of ether. After another trip to town and back, the acclaimed ranger Biro brought along a befriended banshee and attempted to use it to probe the mysterious pathways. This resulted in her immediate porting back to PI. The remaining exiles started noticing episodes of being ported short distances from their original positions. One such instance resulted in the illustrious healer Kathius falling to an "ethereal whirlpool."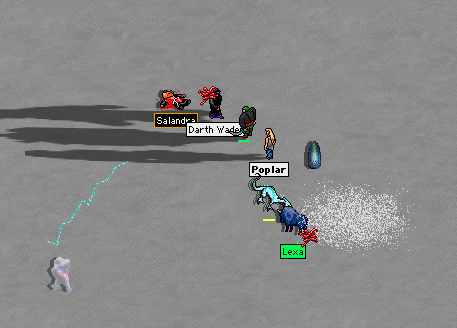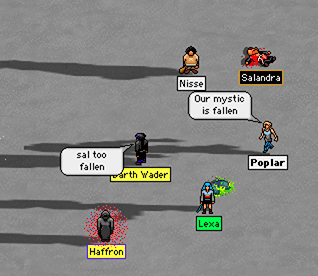 The adventurers decided that enough science had been conducted for one day and that a larger force would be needed to investigate further. They retreated to town and celebrated their several near escapes.
-Poplar
Posted by Para at January 12, 2021 09:49 PM