Lore Tour of All Lore Tours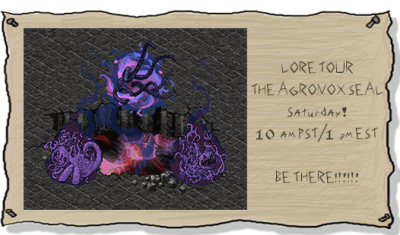 Stinky sent the following announcement to TMN:
Arrrr Saturday Jan 22nd 10am PST/1pm EST!! THE Lore Tour of All Lore Tours!
We will be traveling to the depths of Shadowspring Citadel to conduct the Agronox Seal Ritual that was taught to us by an Ancient Witch who went by just too many names to list.
Hopefully sealing the crack/rend in reality there will help the Shadow problem popping up Fane and ABC. At least not make any worse.
We need as many exiles as possible in order for this to succeed, so be there!
Mystics, Healers, and Fighters of All Flavors! Fate of our plane of existence depends on it! BE THERE
Posted by Para at January 20, 2022 08:53 AM