Update on Ad Art Contest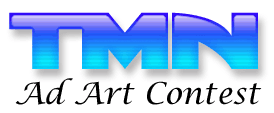 Here's an update on TMN Ad Art Contest #2:
The following exiles have donated to the prize fund:
Liolel
Farhope
Azriel
Baraboo
Connie Crete
Baffina
Hunk
Typ
Aravir
Slyph
Merlisk
Shiner
Norm
The prizes this year will include:
First Prize: 5000 coins
Second Prize 2500 coins
There will also be prizes for the runners-up . . . but right now it does not appear they be necessary due to the small number of entries!
We still need more sponsors to help pay for the prizes. Your help with the prize fund will be very much appreciated.
Two exiles have submitted entries so far. Poesy has started work on an entry, but is seeking a collaborator.
The contest will be open for entries through May 2, 2004.
Additional notes:
GIF (or animated GIF) is the preferred format for entries. Flash entries will be accepted. Please note that submitting an entry or winning a prize does not in any way guarantee that your art will go into rotation on TMN's home page.
Read below for the full contest rules.
Who are the judges?
The judge is Paramedic the Thoom. A panel of artistic exiles may be consulted for assistance in the judging.
What is the subject?
The subject is an advertisement for the ThoomCare Media Network.
What size should my image be?
All entries must be the size of the traditional TMN logo: 360x152 pixels. Other sizes will not be considered.
What about file size?
I would try to keep it less than 100K if possible.
Are animated GIFs acceptable?
Certainly, yes.
Where should I send my entry?
See "Contact Information" in the right-hand column of TMN.
May I submit more than one piece of art?
Exiles may submit as many entries as they like. There is a limit of one (1) prize per exile. Remember, TMN is looking for quality rather than quantity, so you're better off spending more time on one or two creative and polished ads than multiple inferior entries.
Where can I see last year's entries?
Scan through the May 2003 TMN archives.
What sort of style should I use for my ad?
You are open to select any type of style, IC or OOC. Feel free to be inventive with this. What would a TMN ad look like on a signpost in Puddleby? On a parchment delivered to the Darshak? How would a TMN ad look if done in the style of ancient Egyptian art? Italian Renaissance? Art Deco? Medieval illustrated manuscript? Anime? Atari 2600? CNN? Star Trek? Soviet propaganda? Any of these and countless others could provide interesting inspiration.
When is the deadline for submission of entries?
End of the day on May 2, 2004.
Posted by Para at
07:26 AM