Connie Crete on New Critters

Connie Crete sent the following report to TMN:
Ber Para,
This be a report on 2 o our recent moseys.
Tha firstun, we went ta visit Cindy. Manqy aint been with us since we started gitn real close ta almost visitn Cindy. Usually only gits ta like tha fire cave goin tha long way around. Oh ya, Cindy be tha spider in glen castle. No pitchers o her. But pitchers o Kvynn bein useless. First, he failed at gardenin.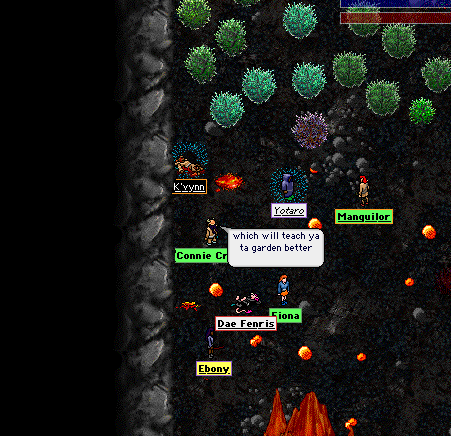 Then he discovered tha first new critter: Zubutter. Zubutter be tha critter mystics makes when spreadin zu around on bread. This mosey, Yot and me ended up runnin fer our lyves back ta tha icebox but he gotted everybudy up and we went home. Not 50%.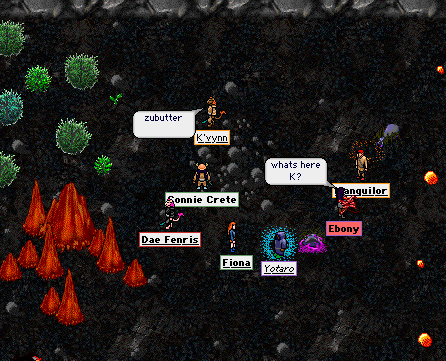 Tha second mosey, we went ta NOOB. We brang Prae as a ringer rod. It started good. We cleared tha first snell and was lurin tha second. Then we got swarmed so ran out. On tha next tryin ta clear tha first snell, Eb says "safe" which be bloodmage-ese fer "only 4 loathins." Only they was polite and real relaxed and mellow loathins, which is why they is now Laothins.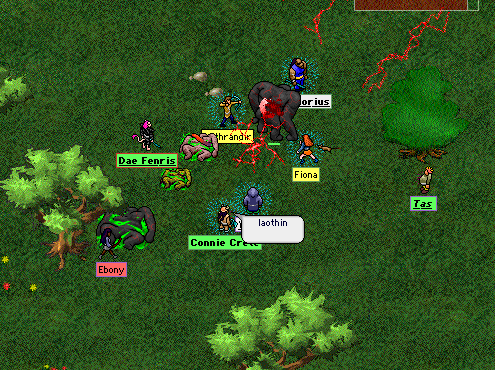 So anyways, Mirabel (by Prae) was askin why nobudy camed here. So . . . we tooked care o tha 3-4 (I didnt see tha 4th die but swears it was there when I ran) laothins and we was pressin inta tha next snell when we gotted over confident and all died but Prae, Dae, and Fiona. So we camed home on tha chain. Agin, not 50%.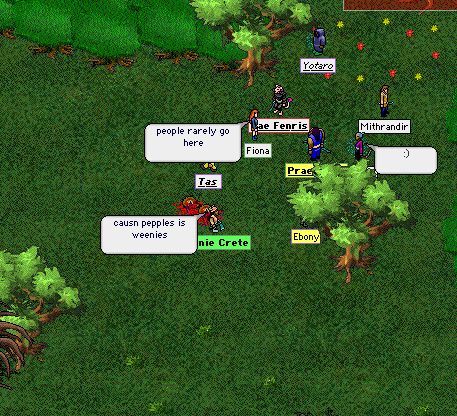 New Critter summary:
Zu spread on bread: Zubutter
Mellow Orgas that lines up nice ta be bashed: Laothins
Time fer sum back ta back Abyss 2 moseys.
Ber!
-Connie
Posted by Para at
03:08 AM