Pies for Puddleby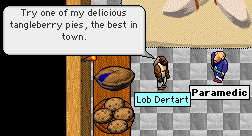 From Prue:
The day of the Puddleby Pie Project exhibition is just about upon us!
We've had a number of new contributors, including a new Diamond
Sponsor... Janus! Thanks to all.
And a very special exile gave what few coins he had to the Project... my
nephew, and Sleipnir's very own son... DESTROYER OF WORLDS! Bless that
beautiful, beautiful boy.
Exhibit distribution will commence about 4 puddlehours before the
exhibition time. That'd be around 11AM, PDT by the Emperor's clock. The
distribution point is currently secret... the Project has received
unconfirmed threats to disrupt distribution. If you want to be a
contributing artist, just get to town. Instructions will be released
over sunstone. You need not be a sponsor to receive art supplies.
Sadly, Sleipnir delivers his regrets that his wedding party will be
unable to assist in exhibit transportation. Alas.
For any who are interested, a simple Rapid Pie Exhibition spell is
available at:
http://homepage.mac.com/puddleby_pie_project/pieSpell
More info is available here:
We'll continue to accept donations of coins to be used for the Puddleby
Pie Project Legal Defense Fund. There's bound to be a litigious art
hater or two.
Yours,
Prue
And now for the list of Puddleby's 94 finest patrons of the arts!:
The List (*denotes new/changed entry):
DIAMOND SPONSORS (20 pies, 700 coins)
Althea & Slyph, social couple of the century
Axis
Chum Punkie
Cutlas
Haze
*Janus
Anonymous Sponsor
PLATINUM SPONSORS (10 pies, 350 coins)
Brock
Connie Crete
Droch
Hidden
Hrothgar
Iho
Llenlleawg
Paramedic
*Salazar
SHAMHAT
Thorstorm
Thuja
A Most Courteous & Charitable Anonymous Sponsor
GOLD SPONSORS (3 pies, 105 coins)
Aerizith
Alchemist
Boggs
Cecil
Deathlord
Dimsdale
*Elenis Reyav
*Gimli
Kishi
Ledward Vicious
Leos
Lex
Michael
Norm
Puddleby Incinerate Shepherd Committee
Relkin
Samwise
*Slasher
Slim
*Stormraven
Anonymous Sponsor
Anonymous Sponsor
SILVER SPONSORS (50 coins)
Bones
*Citrene
Dragonclaw
J'nder
Knightshade
Laiy
Maxibus
Naferu
Opxe
*Sauron
Theo
*Thorin
*Vizer
Xaerus
*Xepel
Yor
Anonymous Sponsor
Anonymous Sponsor
Anonymous Sponsor
Anonymous Sponsor
Anonymous Sponsor
OTHER SPONSORS
Ahh
Ambika
Arbitur
Dagiris
*Destroyer, son of Sleipnir
*Drenn
Eyeball
Hepta
*Hista
*K'Pyn
*Neil
Nunul
Papa
Praetorius
Raldin
*Sarloch
Selwyn
Soulmaster
Talin
Telemain
*Tonoto
*Tyking II
Ugh
Valiant
Viviana
Anonymous Sponsor
Anonymous Sponsor
Anonymous Sponsor
Anonymous Sponsor
*Anonymous Sponsor
- Prue
Posted by Para at June 29, 2002 08:21 AM