Sisters Announce Artistic Unveiling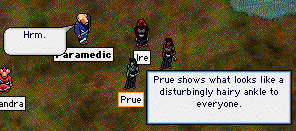 The Sisters of Benevolence have made the following announcement:
Dear Puddleby,
The Sisters of Benevolence are pleased to invite one and all to the long overdue unveiling of their commissioned portrait of several of the town's most beloved heroes.
The ceremony will take place in the Puddleby Museum of the Arts, Monday, August 19, at 4 PM, Pacific Time. That's tomorrow.
There will be free beer, music and baked goods. Manx will probably deliver some highbrow remarks on her artistic process and intent. There will be a door prize of something fancy stolen from Luce's pack.
The Sisters apologize for the late notice and long delay. It was all Una's fault.
-- Ashe, Ire, Luce, Prue, Tere & Una
Posted by Para at August 18, 2002 07:14 PM