Strong Curative Potion Recipe Acquired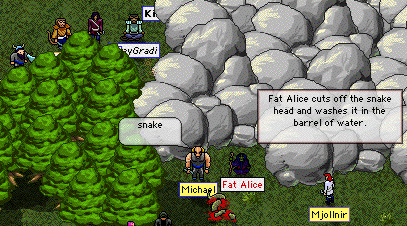 Today a group of dedicated exiles helped Fat Alice with her research on Kizmia's Isle to create a new stronger curative potion recipe. They collected venom glands, herpetid eggs and poison snake corpses as well as falling to poison so Fat Alice could take blood samples. Once the potion was created, Fat Alice demanded a gold maha shirt in exchange for a bottle of the potion.
The good people of Puddleby were generous in their donations and the money for the shirt was quickly raised. The following exiles contributed to the fund:
Sun Dragon Clan , Manx, Mjollnir, Talin, GrayGradi, Gilean, Rincewind, Kilagar, Opxe, Abe, Urgelt, Lov'sya, Cecil, WormTounge, Romuli, Cronos.
The potion was taken to the lab for analysis and it was revealed that the recipe for the strong curative potion is two venom glands, a herpetid egg, and a bottle of water.
Fat Alice trades the potion to us for a new maha shirt
Arista Stainfinger accepts the potion recipe

Posted by Kiriel at May 10, 2003 05:51 PM