Yammelhurt and Scarmis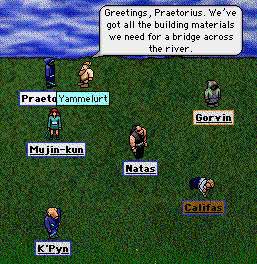 Praetorius filed the following report with TMN:
Some good news! After ages of bringing him materials, Yammelurt now has enough materials to build the bridge on KI. Hopefully it will be completed quickly.
As a footnote, there was a strange occurrence on Ash. Valtrim felt something amiss there and went to look. He found the south beach of Ash Island filled with scarmis. There was a scarmis hole open there. Initially a strong group of exiles took the south beach, but during an attempt to rescue fallen exiles further north, many stronger scarmis came south and pushed them away. A few of us fell and despite many rescue attempts, several exiles had to depart.
SongWren also filed a report on the scarmis invasion on Ash:
Songwren here. Last night there was a scarmis invasion on Ash Island that got out of control real fast. There were at least 50 on each beach landing, including warriors, larvae and a queen. There were many departs to be had. To top it all off, Avaric learned to walk on water, go figure.
Click on the links below for more pictures.
Avaric walks on water
Scarmis and SongWren
Larvae on Ash beach
Does anyone know what eventually happened? Were the scarmis all defeated?
Posted by Para at May 15, 2003 09:48 PM