New Fundin Hunt Announcement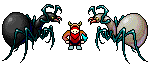 Fundin sent this announcement to TMN:
I have planned 2 more trips to the foothills.
OOC:
1. The first is a weekend one for Europe, the U.S., and the rest of the world too. Hopefully, all might be able to make this. Elenis will be leading. I'm working on a new tactic for this trip with Elenis and Yor. It will take place on Sunday, November 16, 2003. We will meet in the town center 10 minutes beforehand, and we will leave as promptly as we can. This might change, so please hang around town until I sunstone an announcement.
We will be meeting at:
6:30pm GMT/UTC
7:30pm/19:30 CET (Central European Time) (+1)
1:30pm EST (Eastern Standard Time) (-5)
12:30pm CST (Central Standard Time) (-6)
10:30am PST (Pacific Standard Time) (-8)
2. The next midweek hunt will be in November some time. This trip will NOT be going to the Pitch Cave. I'm giving that area a rest. We will be exploring around the Foothills and surrounding areas. I'm trying this option to make the trip a bit more fun rather than a "sit around" type of hunt, which got a bit boring last time for many. Yor will lead (I think) and the date is to be announced.
Posted by Para at October 30, 2003 05:53 PM