Tsrrin Reports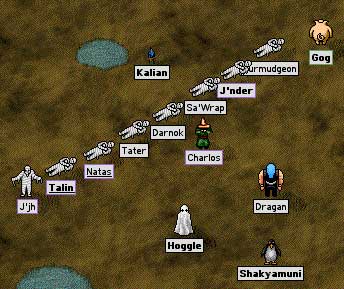 Shakyamuni submitted the following report to TMN:
"Heya Para, Shakyamuni here . . . just wanted to submit some pictures of Algy in action helping to save the town from the death bunnies at North Gate. Also included is a mummy conga line, and a picture of the group trying to kill the two bunnies at the gate, and a picture of Algy, Pazuzu, and I asking if the pig costume makes our butts look fat. General Tsrrin mayhem and fun was had by all. What I unfortunately don't have pictures of is Sephi, Kryll, and Thwack being zombied and the insanity of trying to kill them without dying ourselves."
Panos engages bunny
Bunny surrounded
Pigtails

Azriel has a full report on the undine invasion associated with the Feast of Tsrrin, as well as on the new pathway discovered in Elendil's tree in the Meadow.

Himitsu tells of the feast days as well as her latest progress in training in her latest journal entry.

Philo has an extensive report on the Feast and the Death Bunny assault on Puddleby.

Mani reports on bunnies and undine in his most recent journal entry.
Posted by Para at November 01, 2003 10:19 PM