Fen President Polling Begins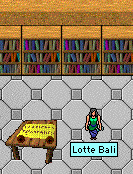 It's once again time for exiles to cast their ballots for Fen President. As with the last election, the stakes will be high and the campaigning fierce for this ill-defined office with no clearly determined duties, obligations, or responsibilities. This year's nominees include:
Lorikeet (member of a clan that submitted a "Find the Exiles" picture to TMN and then failed to follow through with an answer; well regarded otherwise)
Manx (the leading candidate last year, until the mysterious Fen named "None of the above" swept in with a surprise victory)
Odesseus (renowned Fen scholar, keeper of the Rising Claw scrolls, and bear expert)
Polerand (he's not dead, as long as we remember him)
Polling will open soon! As the Zo say, "Vote early, vote often, and hurt those who disagree with you!"
Posted by Para at November 27, 2003 04:18 AM