Newbielympics: Closing Ceremonies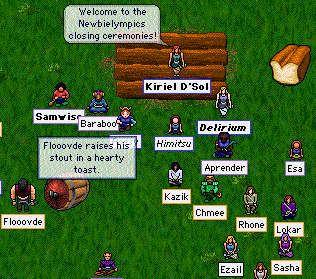 Today was the last day of the Newbielympics. Delirium's marathon item hunt event winners were announced, Lokar came in 1st, Kazik came in 2nd, and Flooovde came in 3rd. The marathon foot race was also hosted by Therian today, Esa came in 1st, Kazik came in 2nd, and Lokar came in 3rd.
This year's Newbielympics went very well, there were 34 different entrants between the various events. A drawing was held at the closing ceremonies for more prizes, half the folks who entered in various Newbielympics events won a prize. Newbielympics participants who missed the closing ceremonies can check the Newbielympics results to see if they won anything.
There's still time to enter the educational visionstone contest! Deadline is Sunday at 10pm PDT (GMT-7). Exiles of all ages are welcome to enter. Details available.
Posted by Kiriel at August 08, 2004 01:47 PM