Kiss That Frog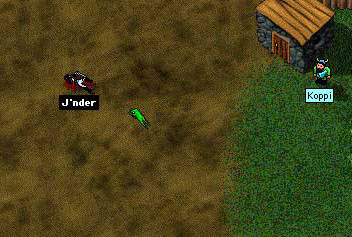 J'nder sent the following report to TMN:
"There was a huge invasion by frogs today. It seems that the frogs took the characteristics of many creatures found in the lands. Thus there were frogs throwing lightning and spitting acid as well as "Hatred" and "Greater Death" frogs. Many exiles sheltered in the library and mounted wave after wave of attacks to try to reclaim the town. Eventually they succeeded, but only after many departs.
"Unfortunately my camera malfunctioned and I only got one snap. Hopefully you'll get more. This one's of me just after being felled by the "Greater Death" frog!"
Lundar also felt some frog wrath.
Posted by Para at August 10, 2004 12:09 AM