Zorton Port Rescue 2: The Sequel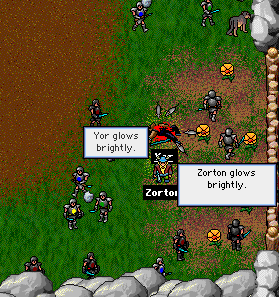 Yor sent the following report to TMN:
"Some people may recall Zorton's port rescue in the Foothills Passes some time ago (reported here on TMN). Well, yesterday he pulled it off again and once again I was the victim. OWE had taken the weekly clan hunt to Phinseyland to kill rebels. When we reached the keep, I decided to scout the outside of the keep via Flander's poppy field. When I entered, it was packed and I ended up on the wrong side of two Rebel Knights. I was quick work for the horde of angry rebels. I wanted to depart because I didn't want yet another bloodbath there, but Zorton insisted he be given the opportunity to use his strange stone to retrieve me. The timing had to be absolutely perfect or he'd end up just like me. Before long, low and behold, Zorton appeared and I was swept up by him and his strange stone and instantly brought to a safe location near the other Elephants (and Farhope). Zorton did fall in the process but was immediately raised. I had to be hauled to town for more horus where I was raised. What a rescue!"
Posted by Para at September 06, 2004 10:56 AM