A Pun Day at the Fair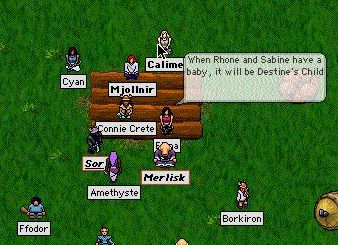 Mjollnir sent this announcement to TMN a while back. My apologies for not getting it posted sooner.
"The Grand Punfair was a great success and thanks go out to everybody who entered and provided us with oh so many puns.
"Congratulations to the winners:
Limerick Contest
Winner: Cyan
Prize: 2000c
Tall Tales Telling
Winner: Destian
Prize: 2000c
Grand Punfest
Round 1 - Topic: Food and Drink
Winner: Connie Crete
Prize: 1000c and an orgaberry cluster
Round 2 - Topic: Nature (Plants and Animals)
Winner: Amethyste
Prize: 1000c and a luck bone
Round 3 - Topic: Music
Winner: Merlisk
Prize: 1000c and a steel pot
"A spot prize of 500c was awarded to Elena for 'Stinker of the Match' for her musical pun 'When Rhone and Sabine have a baby, it will be Destine's Child.'
"I would just like to thank everybody who donated money and prizes and to everybody who turned up to make the day a great success."
Look below for more images and some winning entries.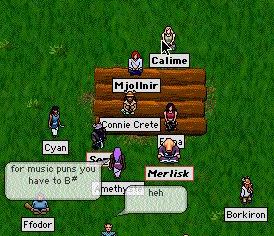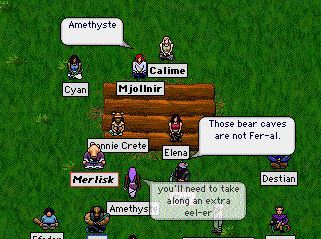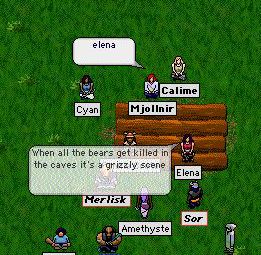 Winning Limerick
I know a fine Zo named Ootog
Who's sence of direction is odd
He yells lets go east
and vanquish some beasts
but went west to slaughter the lil frog
Winning Story
Let me tell you a little story
about a dwarf named Connie Crete
from every bar both near and far
they'd reserved this lass a seat
Lager from tap or jugs of whiskey from the shelf
she could open her throttle and throw back a bottle
as quick as the devil himself!
Connie Crete!
Now word got around that Connie Crete was no pretender
they'd quake in fear and lock up the beer
when Connie went on a bender!
If she came a knockin' at your pub
you'd be sellin' the place by dawn!
She'd be drinkin' at seven, by 10 to 11...
well, all the booze would be GONE!
Connie Crete!
It was five in the evening, on a warm Puddleby night
Connie barged into the healer's bar, the doorman gave no fight
She had money in her pocket, sylvan whiskey in her eye
Git up off yer asses an' set up th' glasses!
I'm drinkin' this place dry!
Now all the serious boozers, they were soon broken-hearted
when Connie finished off six
and she was only gettin' started
Guzzlin' down the pints
and inhaling the bottles like air!
Hebark had warned that the malt might have turned
But Connie just didn't care!
Connie Crete!
So Connie drank the whole damn bottle
had another pint or two
when it made no impression she started a session
with a barrel of honey ale brew
She was finishing her keg
when her face turned green
Good Gaia! Connie fell down after ONLY fifteen!
A crowd of folks had gathered
even watching from out the door
As nine large Ghoraks
lifted Connie off the floor
A healer looked her over
That's gotta be a first!
Cause it's not what yer thinkin', it wasn't the drinkin'...
This dwarf died o' thirst!
CONNIE CRETE!!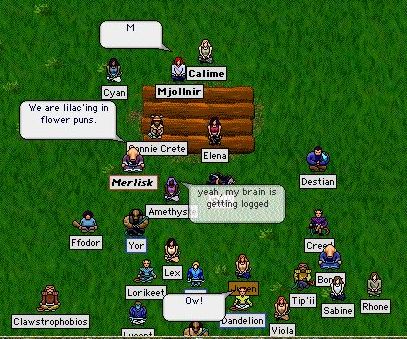 Posted by Para at November 28, 2004 01:36 PM